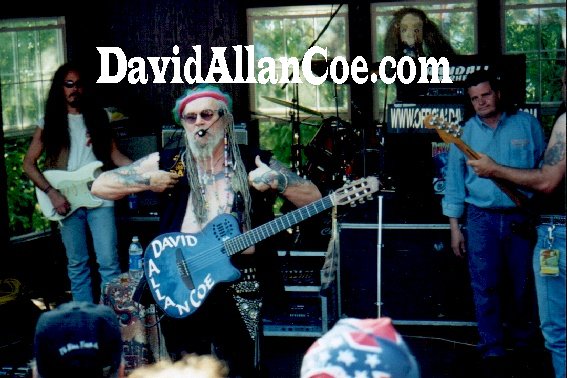 Underground CD Collection Box Set! – Yes, these are the CD's you've heard about everywhere.
These CD's are very hard to find and have all the classic Underground songs.
David talks about his attitude since being released from prison and performing songs off of his X rated album.
You will get 17 CDs total that include 218 David Allan Coe songs.
About David Allan Coe
Ex-con found living in a cave!: David Allan Coe was the outlaw even outlaws were leery of coming across. He spent 20 years in prison for offenses including armed robbery and claimed to have killed a man who threatened him with sexual assault in a prison shower. When a reporter challenged this story, Coe wrote. "I'd Like to Kick the Shit Out of You" in his honor. In the '70s, Coe recorded two albums of X-rated and racist tunes, with titles like "Cum Stains on My Pillow" and "N*gger Fuckers." Money troubles followed. He lived in a cave in Tennessee after the IRS seized his home in the '80s, and in 1990, Feds stormed a stage to repossess a guitar right out of Coe's hands. He recently recorded with members of Pantera and toured with Kid Rock.
"It's hurt my career because I'm not a pussy and a yes-man. Nevertheless, I'm the motherfucker who has to live with David Allan Coe the rest of his life."